Diversity, Equity and Inclusion

Washoe County is committed to Diversity, Equity, and Inclusion (DE&I) at all levels of the organization.  Building this commitment into our policies and practices enhances our organization for employees and enriches the experience of the citizens that we serve.  A diverse workforce requires an inclusive environment built on a foundation of tolerance and respect for individual differences, values, and perspectives as set forth in Washoe County's Code of Conduct.  Through these core principles, it is the goal of Washoe County's leadership to create a sense of belonging for all employees and citizens served.
In 2021, the DE&I Employee Resource Group (DE&I ERG) was established as a volunteer group to provide support and guidance to Washoe County's DE&I initiatives and policies as they relate to the employee experience. 
Diversity 2022 Calendar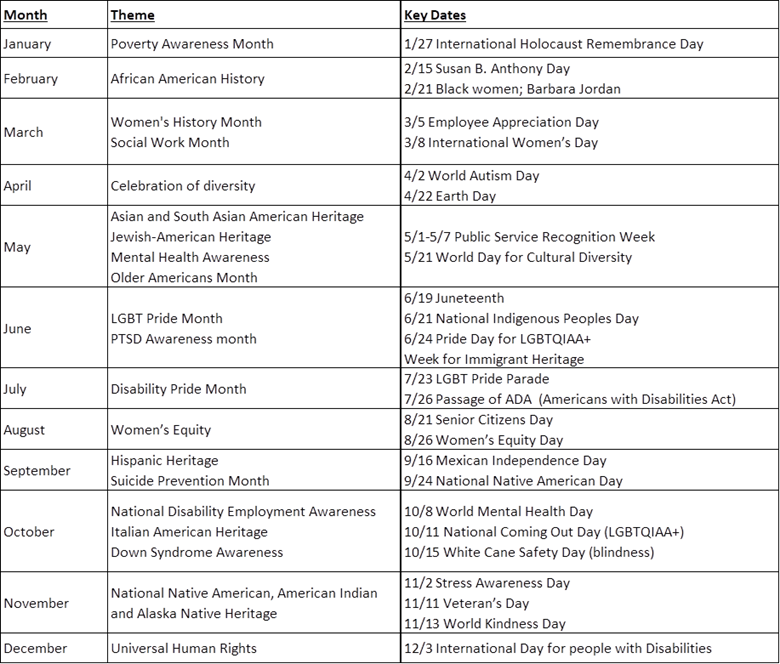 To join the DE&I ERG, please email:  dei@washoecounty.gov.
Related Online Resources
---
Washoe County is proud to be an equal opportunity employer and is committed to a diverse workforce that creates a sense of belonging for all employees and citizens, thereby encouraging persons from all backgrounds and experiences to apply for employment. 
Washoe County will recruit, hire, train and promote into all job levels without regard to race, religion or belief, gender, marital status or domestic partnership, familial status, national origin, age, mental or physical disability, pregnancy, sexual orientation, gender expression or identity, genetic information (GINA), veteran status, political affiliation, membership in an employee association or union or any other protected class under applicable federal or state law.