Davis Creek Regional Park
25 Davis Creek Road, Washoe Valley, NV 89704 (click here to view a map)
Park Ranger Office: (775) 849-0684
Click here for current weather conditions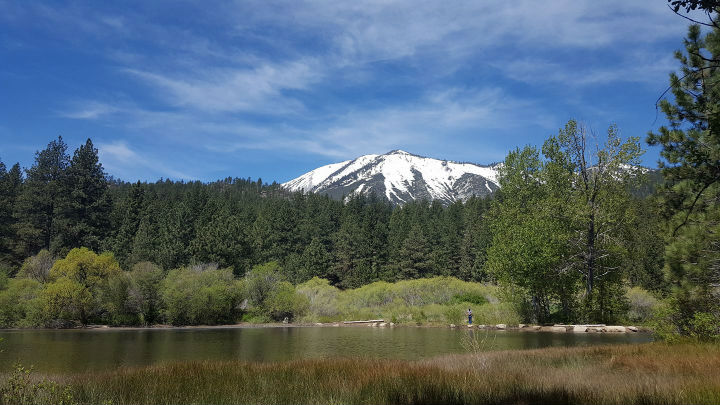 Located 20 miles south of Reno, this year-round recreational destination includes over 200 acres of pine and sage desert nestled against Slide Mountain on the eastern slope of the Sierra Nevada Mountains. Outdoor recreational opportunities include a campground with hot showers, scenic picnic areas surrounding a small fishing pond, hiking trails, an equestrian friendly trailhead, two reservable group camping areas, a large reservable group picnic area, an outdoor amphitheater and various interpretive programs. Be prepared for outstanding views of Washoe Lake and Slide Mountain while visiting Davis Creek Regional Park. For park rules and regulations, click here.
Click here to view a map of the park.
Recreation at Davis Creek Pond
We do not permit any ice fishing in the winter. Please stay off the ice at all times. Feel free to call the park office at 775-849-0684 for the latest conditions.
Davis Creek Pond is a popluar spot for anglers, especially families with smaller children. The pond is stocked with Rainbow trout and features various points of fishing access along it's banks. As with all other urban ponds in Washoe County, the following rules and regualtions apply at Davis Creek Pond:
A current valid fishing license or permit issued by the Nevada Department of Wildlife is required for all anglers over the age of 12. Purchase your annual license or one (1) day permit here.
Fishing hours are 8:00 a.m. to 30 minutes before park closing (posted at the park entrance)
There is a limit of three (3) fish per angler, including resident youth anglers (under age 12). Non-resident youth anglers may keep one (1) fish.
Stop Poaching! Please call the Davis Creek Regional Park Ranger Office at 775-849-0684 or NDOW at 1-800-992-3030 to report information on any wildlife related crime.
Wildlife
Davis Creek Regional Park is home to a wide variety of plant and animal species. Click here to view the species list. Also, check out Davis Creek Regional Park on iNaturalist.
The park is home to over 100 different species of birds! To download and print a bird guide for the park, click here. To view a list of bird species seen in the park, click here. To view a photo album of some of these bird species, click here.
Picnic Areas
The day use individual picnic areas are available on a first come, first serve basis. The Lakeview Picnic Area is available by reservation only. For availability or to request a reservation, click here or contact Park Reservations at (775) 823-6501 or reserveparks@washoecounty.gov
Please know that we are in bear country requiring visitors to store food and trash properly. All trash goes in the dumpsters which need to remain latched at all times. No food should be left out unattended. Thank You!
Trails
Programming
Interpretive programs include guided hikes, Story Stroll, Junior Ranger Activity Guide and selected events in the park's outdoor amphitheater. Information about upcoming park events and programs can be found on our calendar of events page.
Story Stroll!
In partnership with the Washoe County Library System, we have offered story strolls to promote reading, highlight our local park, and engage our community. The strolls took place along the 0.7 mile loop Nature Trail, encircling the pond. Check out this video highlighting the strolls:
Campground
Please Note: All reservable spaces at Davis Creek Regional Park require a 15 day advanced notice. This includes the reservable individual campsites, the Tent Group Camp Area, the RV Group Camp Area, and the Lakeview Picnic Area.
Open year-round, the
Davis Creek Campground
has 62 overnight campsites available. Although there are no hook-ups, longer travel trailers (32 foot max) can be accommodated at 19 sites (sites 21 - 39). Hot showers are also available year round (bring quarters). 
Online Revervations are now available for individual sites 2 through 30 and sites 35 through 60. To reserve a site, click here (after printing these online reservation instructions). You may also contact Park Reservations at (775) 823-6501 or reserveparks@washoecounty.gov Please Note: Reservations can only be made 15 to 180 days in advance. Thank You!
Media
Interpreting Park Biodiversity Through Wildlife Photography (2020 Virtual Presentation)
Portions of the 1995 TV-movie 'Bonanza: Under Attack' were filmed at Davis Creek Regional Park. Click the links below for more information:
Bonanza: Scenery of the Pondersosa
Park History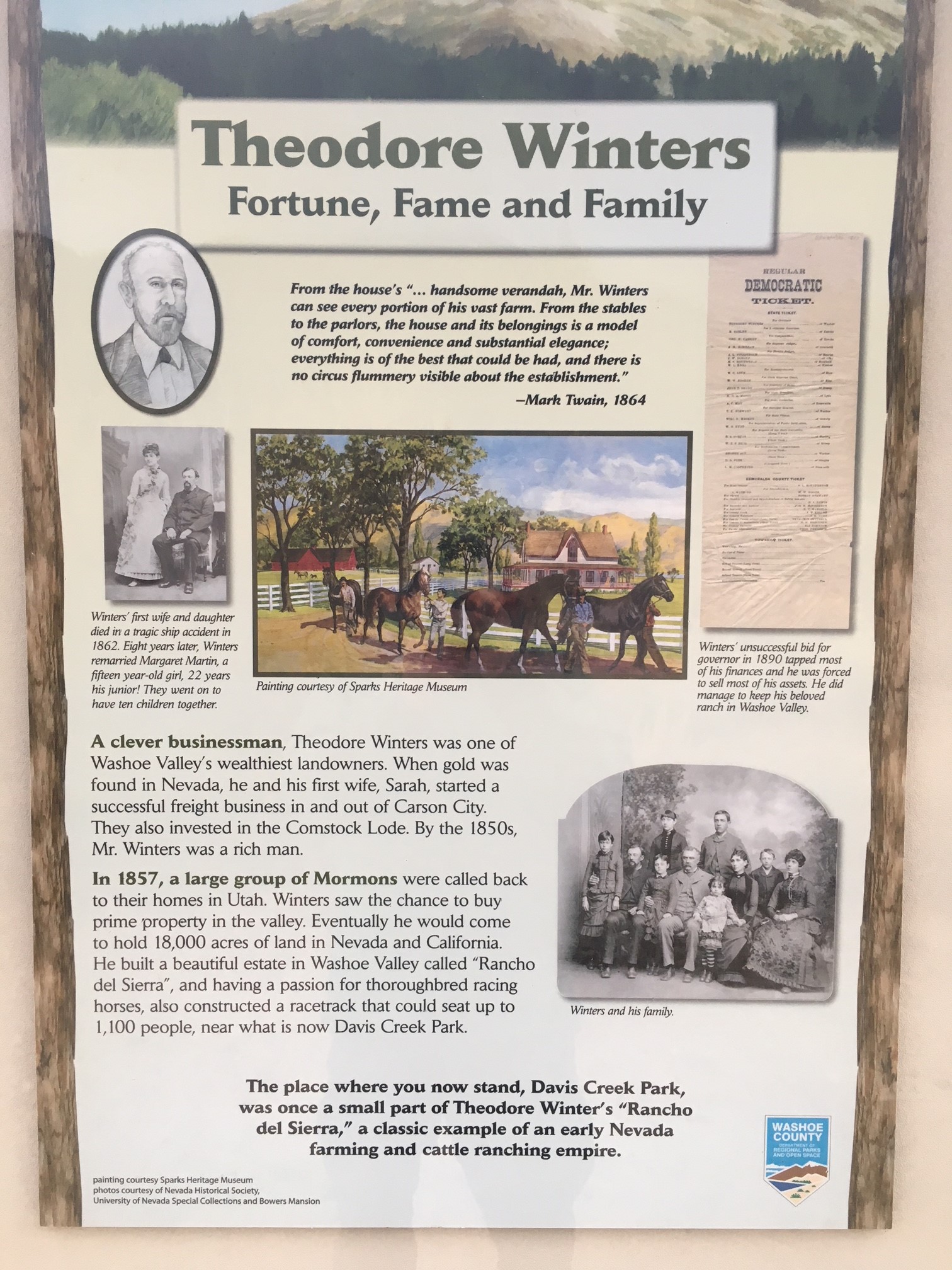 Davis Creek Regional Park was once a part of the 4,000 acre Winters Ranch. The ranch was well known in the early 1900's for its Thoroughbred horses. A race track was located near what is now the park entrance. During the winter, ice was cut on the park pond and used in the mines of Virginia City and for domestic use. Much of the timber on the hillsides above the park was cut for lumber in the late 1800's. The scenic area around the pond was a favorite spot for the Winter's family picnics and gatherings during the summer months. Today, the large pines add to the peaceful atmosphere of the park which was opened to the public in 1968.
Davis Creek Regional Park lies on the east side of the Sierra Nevada Mountain Range which includes Slide Mountain and Mount Rose. Contrary to what most people believe, Mount Rose ski area is not on Mount Rose, but located on Slide Mountain. Mount Rose is the large mountain to the north of Slide Mountain. On May 30th, 1983 around about noon, there was a devastating rock and soil slide. The winter of 1982/1983 was unusually wet and brought a record snowpack. But with an unusually warm spell in late May, high runoff occurred. The runoff infiltrated into the subsurface eventually causing a large avalanche of rockfall and debris. The avalanche damaged a small reservoir which further triggered slides and torrents of debris streaming downward over the alluvial fan (debris field) of Ophir Creek into Washoe Valley. Geological studies suggest that similar rock slides have happened at least nine times in the past 50,000 years.
 
Activities: BBQ/Picnicing,  Bird Watching,  Fishing,  Camping,  Hiking/Walking,  Horseback Riding,  Horseshoes,  Volleyball,  Interpretive Programs,  Junior Ranger Program,  Photography
 
Facilities: Lakeview Group Picnic Area,  Individual Picnic Areas,  RV Group Camp Area,  Tent Group Camp Area,  Equestrian-friendly Trailhead,  Outdoor Amphitheater,  Fishing Pond