Davis Creek Campground
Currently, Campfires (including propane fire pits) are prohibited until further notice. Charcoal and propane (gas) fueled barbeques & stoves are allowed.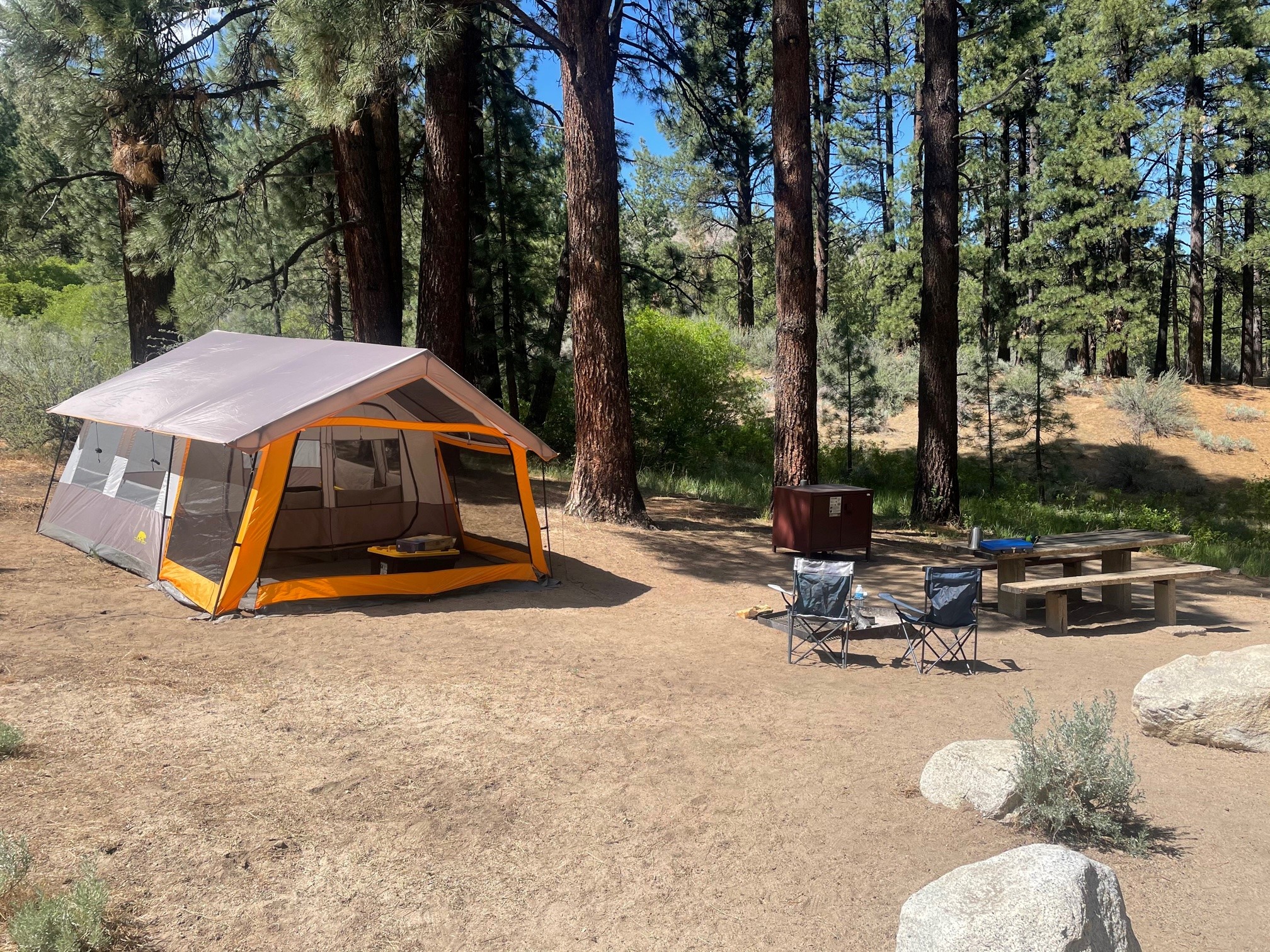 25 Davis Creek Road, Washoe Valley, NV 89704 (click here to view a map)
Park Ranger Office: (775) 849-0684
 Located within Davis Creek Regional Park, against the Sierra Nevada Mountains in Washoe Valley, this area offers outstanding views of Washoe Lake and Slide Mountain. The campground is open year round and has 62 overnight campsites available on a first-come, first-serve basis unless otherwise reserved. Although there are no hook-ups, longer travel trailers (32 foot max) can be accommodated at 19 sites. Hot showers are available year round for a small fee (bring quarters).
To view a map of the Davis Creek Campground, click here.
Online Reservations are now available for individual sites 2-30 and 35-60 and can be made 15 to 180 days in advance. With less than 14 days, sites without a reservation become first-come, first-serve and cannot be reserved online or by Parks Reservation staff.
Contact Parks Reservations at reserveparks@washoecounty.gov to avoid forfeiting fees paid if you reserve the wrong dates, site or to reschedule.  The Cancellation Policy is in effect once a reservation is made online.  To reserve a site, click here. 
Thank You!
Please Note: If you see a yellow 'Reserved' tag on a site marker, you can still camp in the site on a 1st come, 1st serve basis as long as you are out by the date listed.
How to Successfully Secure a Campsite …. BEST option is to make a reservation (at least 2 weeks in advance) by following the instructions above. Without a reservation, you would be camping on a 1st come, 1st serve basis and will need to pay cash AND show occupancy (at the same time) meaning "Leave enough camping gear in the site to show it's clearly taken". Be sure to check the dates on those yellow 'Reserved' tags before picking a site! Got questions? Call us at 775-849-0684. Thanks & Happy Camping!!
Campground Fees
     * $25.00 - Per Site/Night with 7 people maximum and 1 vehicle
     * $5.00 - Per night for each additional vehicle
     * $5.00 - Per vehicle for visitors (regardless of stay length)
     * $1.00 - Per Pet/Night
     * $5.00 - RV Dump Station use
     * $6.00 - Per bundle of firewood (when available)
     * Quarter-operated Showers ($1 for 3 minutes)
     * NO Personal Checks accepted on-site
     * Please bring correct fee amounts as change is unavailable


Campground Rules
     * Quiet Hours are 10:00 pm - 7:00 am (no generator use)
     * Checkout time is 12:00 pm
     * Pets must be leashed at all times
     * Do not gather firewood, pine cones, etc.
     * NO amplified sound (radios, iPods, etc.)
     * Always use bear lockers and keep dumpster lids locked
Reservable Group Camping Areas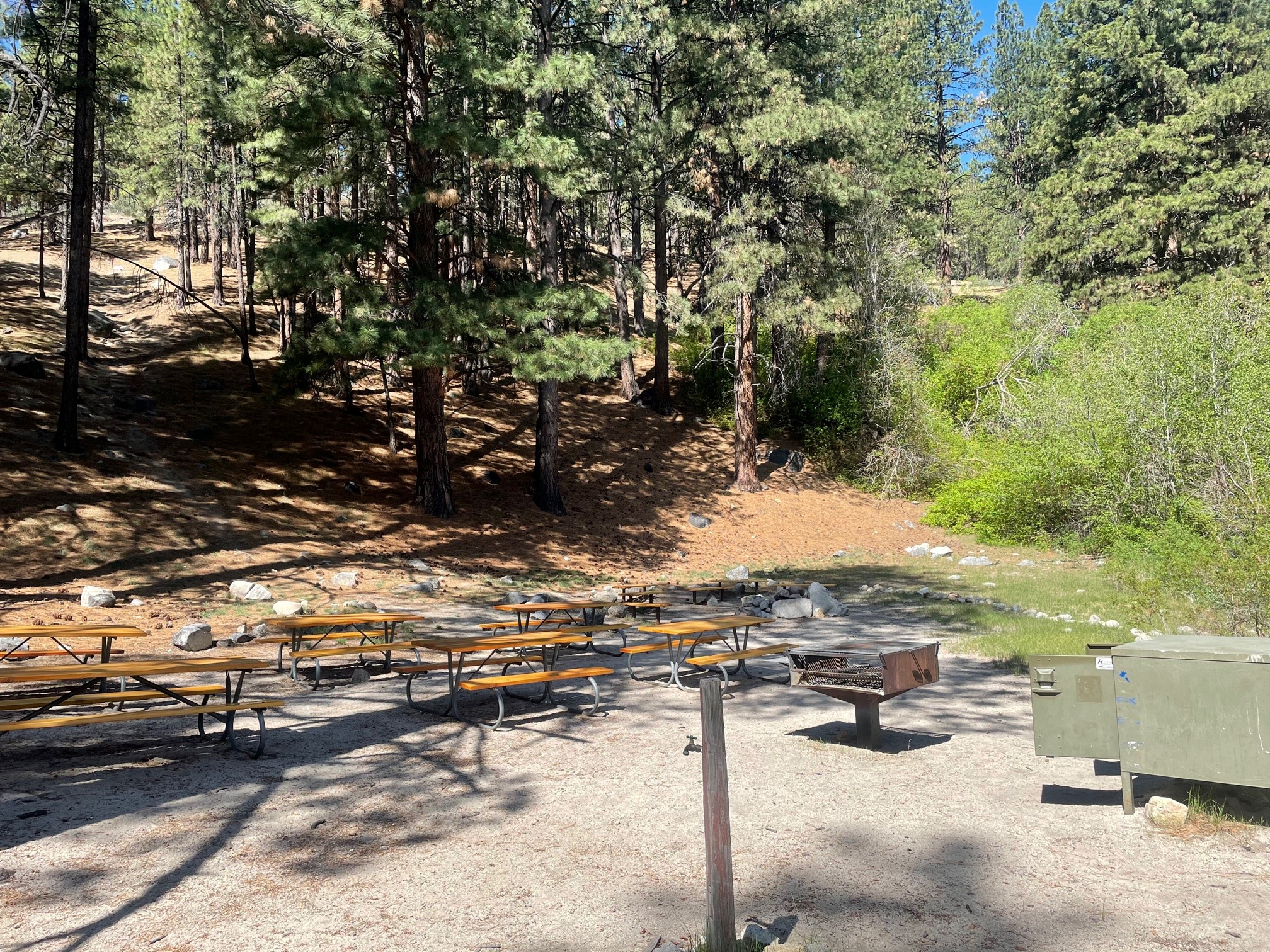 Walk-up Tent Group Camp Area is $120.00 per night with a $100.00 refundable cleaning/security deposit.  Accommodates up to 50 people.
RV Group Camp Area is $150.00 per night with a $100.00 refundable cleaning/security deposit.  Accommodates up to 100 people / 25 RVs, 32 foot max.
Please Note: Both group camp areas require a reservation by contacting Park Reservations (contact info below). Reservations must be made two weeks in advance or require a District Manager approval if less than two weeks out.        
For more information on the reservable group areas, click here. 
To reserve group areas, please contact Park Reservations at (775) 823-6501 or e-mail reserveparks@washoecounty.gov