Crystal Peak Park
561 Crystal Park Road, Verdi, NV 89439 (click here to view a map)
Park Ranger Office: (775) 828-6612
This 56 acre park is characterized by large shade trees along the Truckee River. The roadways and parking lots are paved, providing direct access to the river. Five individual picnic sites plus 2 small group areas (non-reservable) are available as well as restrooms facilities.  Stroll along the interpretive loop trail and learn about the rich history of the park grounds. Fishing is available at both the river and the Verdi Pond. 
Crystal Peak Park is home to a wide variety of plant and animal species. Click these links for more information: Species List, Photo Album, Birds Pics and Crystal Peak Park on iNaturalist

Please note: Picnic groups of 25 people or more are required to obtain a group-use permit and use a designated reservable picnic pavilion elsewhere. 
Recreation at Verdi Pond
We do not permit any ice fishing in the winter. Please stay off the ice at all times. Feel free to call the park office at 775-828-6612 for the latest conditions.
Verdi Pond is a popular spot for anglers, especially families with smaller children. The pond is stocked with Cutthroat trout and features ADA accessible docks as well as several benches and fishing access along it's banks. As with all other urban ponds in Washoe County, the following rules and regulations apply at Verdi Pond:
A current valid fishing license or permit issued by the Nevada Department of Wildlife is required for all anglers over the age of 12. Purchase your annual license or one (1) day permit here.
Fishing hours are 8:00 a.m. to 30 minutes before park closing (posted at the park entrance)
There is a limit of three (3) fish per angler, including resident youth anglers (under age 12). Non-resident youth anglers may keep one (1) fish.
Stop Poaching! Please call the Crystal Peak Park Ranger Office at 775-828-6612 or NDOW at 1-800-992-3030 to report information on any wildlife related crime.
Media
The park and its history has been featured in various videos. Click the links below to view them:
Park History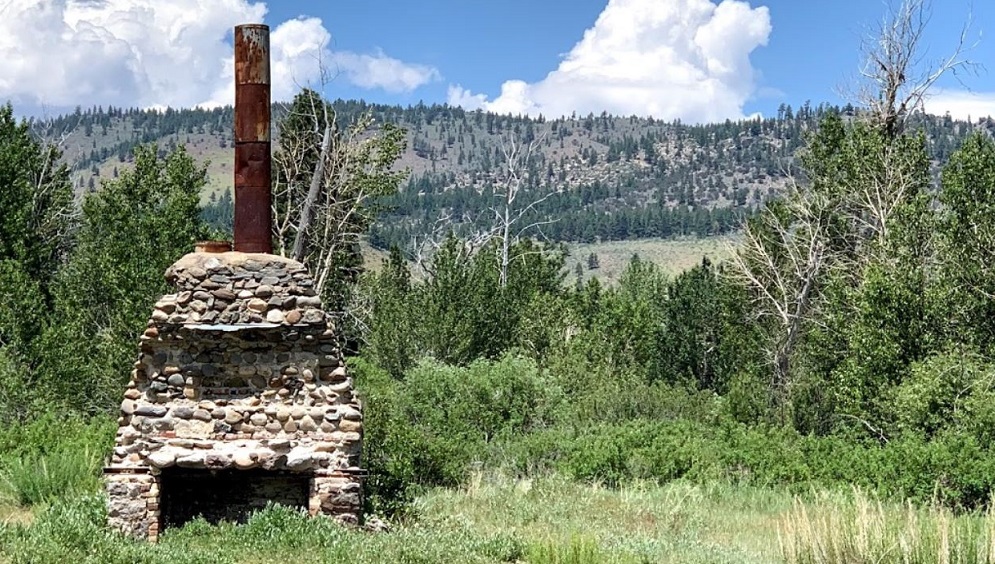 During the 1860's, this area was used by the Verdi Lumber Company for harvesting and processing timber (used for the construction of the mines in Virginia City as well as for railroad ties). The ponds here were used for ice harvesting as well as for timber storage before being processed in the Verdi Sawmill that was located adjacent to the ponds. The Verdi Lumber Co. sawmill burnt down in 1926 after which time it was never rebuilt.
After that time, until 1938, Crystal Peak Park was home to the Verdi Glen Resort which contained a pool and dressing rooms, a restaurant, and nightclub. A fire in 1938 consumed the resort and it was never rebuilt. An outdoor fireplace from this resort still remains today along with the foundation of the swimming pool and fountain which you can see while walking along the Interpretive Nature Trail.
After the fire and subsequent abandonment of the Verdi Glen Resort in 1938, Guy Marsh purchased the property. Guy built a house on the foundation of the restaurant/dancehall portion of the Glen Resort and lived there with his wife Florence for many years.
In 1993, Florence deeded the property to Washoe County at which time Crystal Peak became a park for the community. Crystal Peak Park received its' name from Crystal Peak Mountain visible from this park. This mountain is so called 'Crystal Peak' from the crystal quartz deposits found there. Crystal Peak Mountain attracted many prospectors looking for gold which they did not find there. During WWII, the government took control of a mine at Crystal Peak where they harvested the crystal quartz for use in the crystal radio sets used by the soldiers.
Activities: BBQ/Picnicking,  Walking/Hiking Trails,  Fishing,  Bird Watching,  Junior Ranger Program,  Photography