North Valleys Water Splash Park
The North Valleys Splash Park is CLOSED for the 2021 Season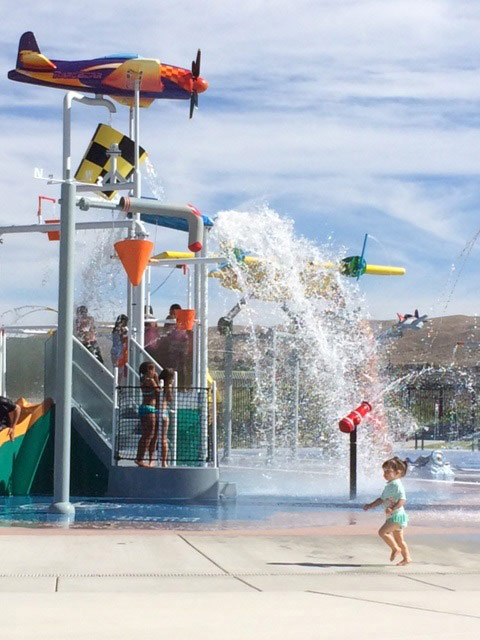 IMPORTANT NOTE ABOUT AIR QUALITY CLOSURES: Washoe County Aquatics Facilities (Bowers Mansion Pool, Melia Gaspari Water Play Park, and North Valleys Water Splash Park) will close in the event that the air quality reaches the red zone or above (151+) according to AirNow.gov.

Located at North Valleys Regional Park, 8085 Silver Lake Road in Stead, this local aviation themed water splash park includes a Rare Bear model resembling the restored F8F 1940s military aircraft that's a fan favorite at the Reno Air Races. This unique water splash park features more than 20 different water features and over 60 spray heads! (Click to view a map.)

PLEASE VIEW OUR COMPLETE LIST OF SAFETY GUIDELINES.
2021 Hours (weather permitting):
PreSeason
May 29-31
June 5-6

Weekends Only
10 am - 6 pm

Summer
June 12-
Aug. 8

Monday - Friday

10 am - 6 pm

Saturdays & Sunday
10 am - 6 pm

Post Season
Aug. 14-15,
21-22, 28-29,
Sept. 4-6

Weekends Only

10 am - 6 pm
Admission Fees:
* $4/person/day.  Children ages 2 and under and seniors (62+) are free
* 5-visit & 10-visit Punch Passes available
Required Attire:
Swimsuits are mandatory.  NO cotton material, cutoff shorts or athletic wear allowed. 
 Additional Information:
* Food and drink are allowed - no glass, no alcohol
* No portable amusement structures allowed
* Balloons permitted but must be anchored down and not popped or released in the park
* Music or amplified sound is not permitted in the Pavilion
* BBQ grills are not permitted 
* There is no volleyball, horse shoes, or a playground
Reservable Party Pavilion:  
There are three covered pavilions available for reservations.
* Pavilion Capacity: 32
* Pavilions are $70 each for 2 ½ hours plus $4/person admission fee (admission fees are paid on the day of the event).
* Hours to reserve are 11:30am-2:00pm or 2:30pm-5:00pm. 
* To reserve space, please call Parks Reservations at (775) 823-6501 or email reserveparks@washoecounty.us.
Party Pavilion Amenities:
* 4 covered picnic tables
* Concessions:  bottled water, soda and prepackaged snacks are available for purchase
* No Electricity
* Playground located outside the gates of the Splash Park
* Restrooms
Contact Information:
Off Season Information: (775) 785-4512 x106
North Valleys Splash Park: (775) 971-3047
Party Pavilion Reservations:  (775) 823-6501
Contact Email:  reserveparks@washoecounty.us