Bowers Mansion
The mansion will be open for weekend & holiday tours from May 20, 2023 through October 29, 2023. We will also be offering Friday & Monday tours June 12th through August 11th.
The Historic Bowers Mansion is located within Bowers Mansion Regional Park.
Bowers Mansion Office: (775) 849-0201
Park Ranger Office: (775) 849-1825
Bowers Pool: (775) 849-0644



---

Tour back in time to Nevada's heyday and see how Comstock millionaires Eilley and Sandy Bowers lived the posh life in Washoe Valley. Picnic, swim and play on the grounds as every generation of visitors has done since the Victorian era.
Tours
Bowers Mansion is open seasonally (weekends and holidays), usually from Memorial Day through Nevada Day (end of October). Tours are every hour, on the hour, from 11:00am-4:00pm. Summer group tours are also available by appointment. Call the mansion for details at (775) 849-0201.
For a virtual mansion tour of your own,
click here
.
ADMISSION FEES (Cash Only)
Adults (ages 18-61) - $10
Seniors (ages 62+) - $7
Children (ages 6-17) - $7
Children ages 5 and under are free.
IMPORTANT NOTE ABOUT AIR QUALITY CLOSURES: The mansion will close for tours in the event that the air quality reaches the red zone or above (151+) according to AirNow.gov.  
Media
The mansion and its history has been featured in various videos & articles. Click the links below to view them:
A visit by the 'History Hunters' (2022)
Washoe Life Podcast highlighting the incredible life of Eilley Bowers (2022)
'Wild Nevada' (Episode 509)
'Knowing Nevada' video (News 4)
Legendary Nevadans: Eilley Bowers of Washoe Valley (Travel Nevada)
Biography of Alison (Eilley) Oram Bowers (Nevada Women's History Project)
'Mysteries at the Castle' (Season 3, Episode 3) This episode aired on January 22, 2016. (skip to 29:19 in the video)
Bonanza - Under Attack [1995]
- Portions of this TV movie were filmed at Bowers Mansion. The inside of the mansion first appears at 5:48 in the video.
Bonanza (Season 1, Episode 7) - Aired on October 24, 1959, the mansion is shown at the end of the show (46:28 in the video) as the home constructed by Annie O'Toole after striking it rich. The footage of the mansion was reused in season eight's "The Greedy Ones" as mining tycoon Shasta's estate.
1955 Episode of 'Death Valley Days' about Eilley Bowers
Programs
Nevada Living History Day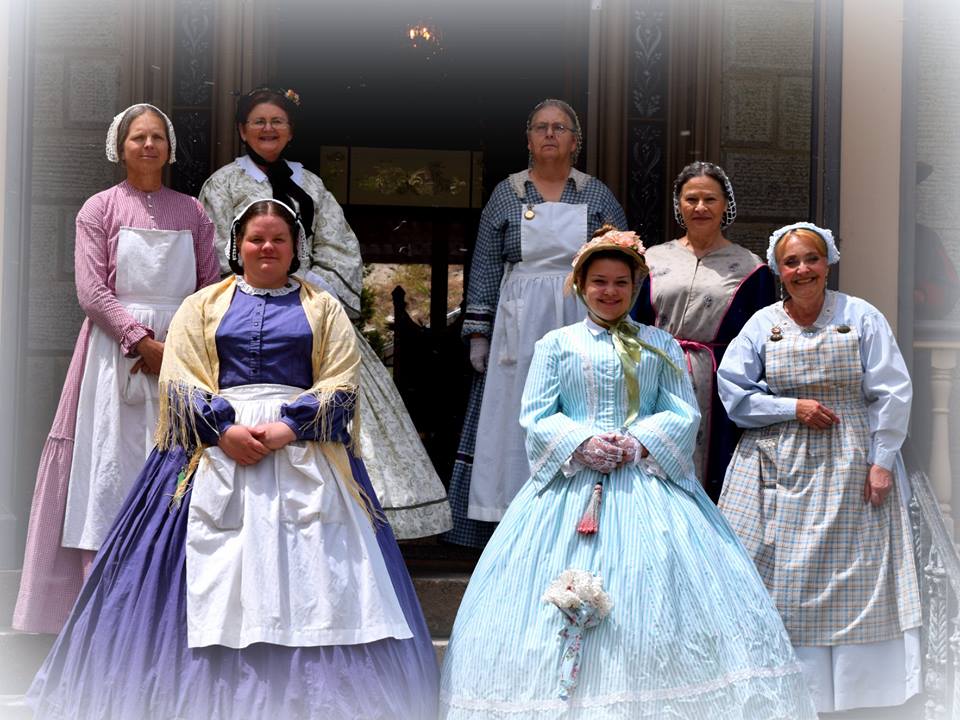 Various exhibits and demonstrations will be happening inside the mansion between the hours of 11am and 3pm on Saturday, May 20, 2023.  A mansion history talk will take place at the top of each hour. Self-guided tours available for $8 adults and $6 children & seniors (cash only please). For more information, please call 775-849-1825 or email Ranger Nick @ nsteuer@washoecounty.gov   For future event dates, keep an eye on our calendar of events page.
Programs on the Porch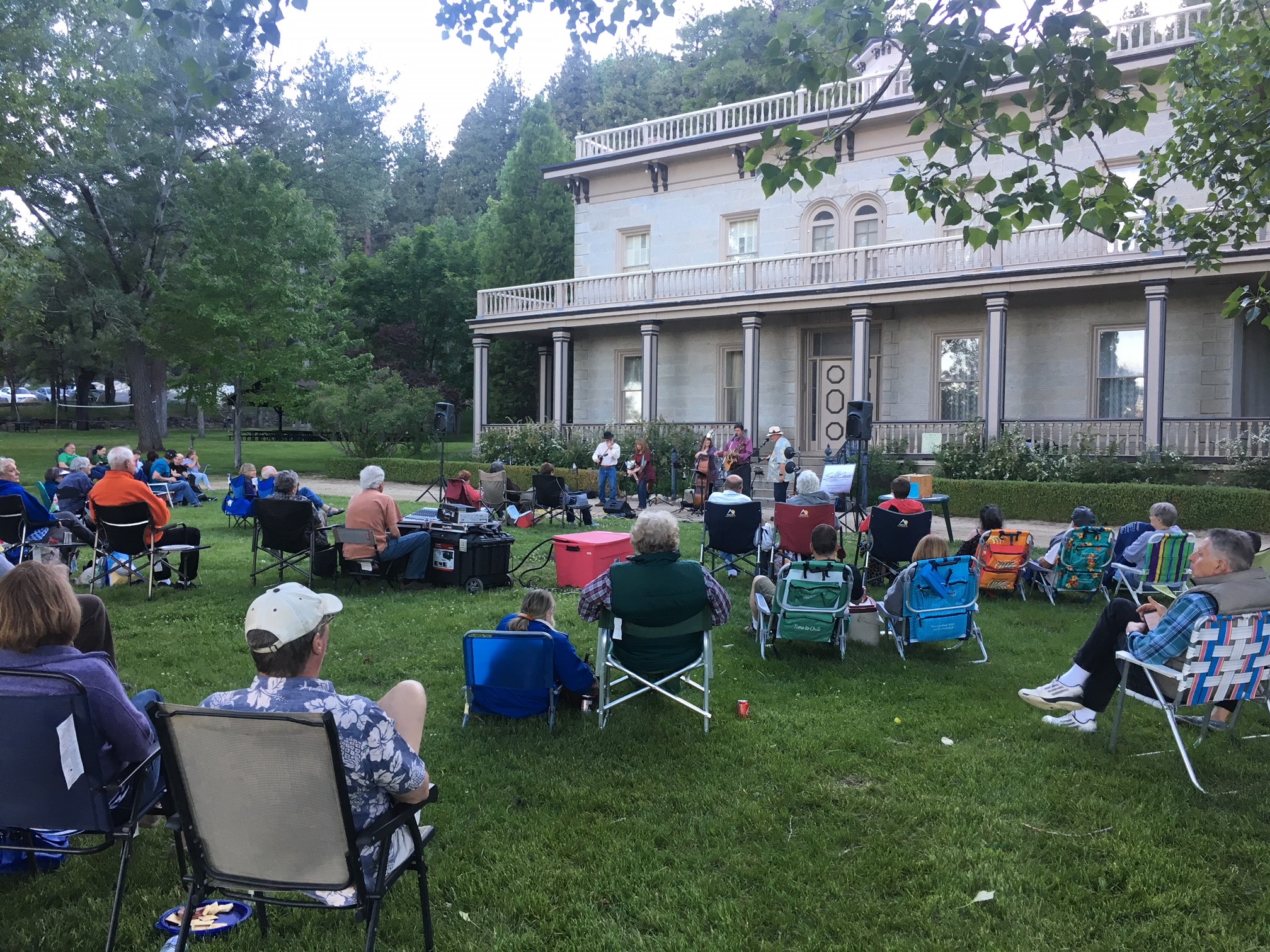 This year's theme is 'Wildlife Edition'. Bring a blanket or chair and enjoy this free* series where multiple wildlife professionals will be speaking about a variety of species! All in front of the historic Bowers Mansion, Friday evenings, May 19th - June 23rd from 7pm to 8pm. *This series is free, however donations are happily accepted for the speakers.
May 19th - Birds of Prey with Master Falconer Marie Gaspari-Crawford
May 26th - Bears with NDOW
June 2nd - Snakes with UNR Biology Dept.
June 9th - Bats with Carson Creature Catchers
June 16th - Bees with Northern Nevada Beekeepers Association
June 23rd - Bobcats & Mountain Lions with NDOW
The Grounds

* Bowers Mansion Pool     * Individual picnic sites (1st Come, 1st Serve)     * Group picnic areas (call 775-823-6501 to reserve)     * Children's playgrounds     * Hiking trail to the Bowers family grave site
Pet Policy
Please note that due to the historical significance, pets are not allowed at Bowers Mansion Regional Park with the exception of service animals.
Contact Us
Bowers Mansion Curator, Tammy Buzick, at (775) 849-0201
Bowers Mansion Regional Park - Park Ranger Office at (775) 849-1825
Directions
From Reno:
- Take I-580 south towards Carson City and take Exit 16
- Turn right (south) onto Old US Highway 395 for 1.4 miles
From Carson City:
- Take I-580 north towards Reno and take Exit 10 (Eastlake Blvd.)
- Turn left onto Eastlake Blvd. and go under freeway. Then, turn right (north) onto Old US Highway 395 for 5.6 miles