Understanding Water Drainage
Our community infrastructure includes a water conveyance system on both private and public land. Water conveyance systems (curbs and gutters, catch basins, storm drain pipes, culverts, ditches, detention ponds, etc.) are typically designed to convey runoff from "every-day" or minor storm events. They are not designed to move or filter excessive amounts of water that are associated with larger or micro-burst storms.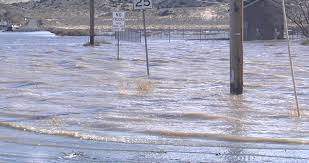 Urban Stormwater
Know Your Risk. Flooding is not limited to areas within a floodplain. All land within Washoe County is AT RISK of year round urban flooding. Urban flooding is the accumulation of excess water that results when the amount of storm water exceeds the ability of our community drainage system to infiltrate water into the soil or to carry it away.
Microbursts
| | |
| --- | --- |
| Throughout Washoe County year-round isolated storms accumulate large amounts of precipitation, in one location, in short periods of time called micro-bursts.These micro-bursts lead to urban flooding. | |
It is reasonable to expect localized pooling or flooding during larger storm events including thunderstorms and micro-bursts that are common in the Northern Nevada high-desert environment.  Take Action and prevent damage and protect your property from water damage. 
Learn More »