Business and Development In Washoe County
Washoe County is constantly working to provide a safe, secure and healthy community. To do that, we are active in the business community with our regional development partners to foster safe and responsible economic growth in the areas that will lead to more jobs and a better quality of life for our residents.
Why Washoe County?
Our Washoe County Community Services Development Services Teams are dedicated to service within the community. 
Streamlined Permitting with Concierge Service
Direct access to both elected officials and dedicated staff
Professional, knowledgable teams
Reduced project risk through problem solving mentality and staff dedicated to finding solutions 
For more information email development@washoecounty.gov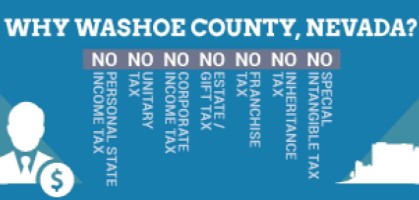 Our Business Friendly Climate. 
No personal state income tax 
No unitary tax
No corporate income tax
No estate tax
No franchise tax
No inheritance tax
No special intangible tax
Learn More »
Fast Facts & Community Data
Population - 436,797
Elevation - 4,153
Median age - 37.5
Square miles - 6,551
Days of sunshine per year - 300
Avg. summer temp. - 87.9
Avg. winter temp. - 50.4
Established - 1861
Learn More »
Nevada Incentives for Easy Transitions
Sales Tax Deferral
Personal Property Tax Abatement
Property Tax Exemptions
Nevada Hub Zone Abatements
Train Employees Now (TEN) Grant
Procurement Outreach Program
Sales and Use Tax Abatement
Payroll Tax Abatement
Property Tax Abatement - Recycling
Renewable and Energy Storage Abatements
Aviation and Data Center Abatements
Industrial Development Bonds
Made in Nevada Marketing
Learn More »