Justices of the Peace
Chief Justice of the Peace Kevin Higgins

Chief Judge Kevin Higgins was appointed to the Sparks Justice Court on April 15, 2003, was retained in 2004, and was re-elected in 2010, 2016, and 2022. Judge Higgins graduated from Reed High School in 1978 and Willamette University in 1982 where he was awarded the 'Senior Key' presented to 10 seniors who contributed the most during their time studying at the university.  In 1985 he graduated from Georgetown University Law Center with his Juris Doctorate.
Judge Higgins was the Chief Deputy Attorney with the Nevada Attorney General's Office before his election to the bench. During his time there, Judge Higgins prosecuted everything from DUI's to death penalty cases; and argued in the Nevada Supreme Court, the United States District Court, the Ninth Circuit Court of Appeals, the United States Supreme Court, as well as almost every District Court in Nevada.
Judge Higgins frequently teaches at judicial education conferences.  For over 30 years, he has presented a review of the Nevada Supreme Court criminal cases at the annual meetings of the Nevada District Court Judges Association. Judge Higgins also sits on the national scholarship selection panel for the Harry S. Truman Scholarship. 
Judge Higgins is active in the community and is a founding member of the Sparks Centennial Sunrise Rotary Club. His wife, Tammy, is a nationally recognized first grade teacher who is also active in many local community groups.  They have three adult children.
Justice of the Peace Jessica Longley
Jessica Longley was elected in the 2016 general election, taking the bench in January 2017 as Justice of the Peace in Department 3. Judge Longley was re-elected by the citizens of Sparks Township in the November 2022 election.
Judge Longley is a third-generation Sparks resident who has a strong commitment to the law, family, and community. She has over 18 years of experience working within the criminal justice system. Judge Longley is also a proud second-generation Sparks High School graduate. She attended the University of Nevada and the University of Nebraska, graduating at the top of her class with a Bachelor of Science Degree in Criminal Justice. Judge Longley attended law school in Springfield, Massachusetts.
Judge Longley interned for the Springfield City Attorney's Office, where she prosecuted code violations and enforced city ordinances. She passed up a position in the Springfield City Attorney's Office to move back to her hometown of Sparks, Nevada, to practice law and raise a family. Judge Longley worked in private practice prior to becoming a Deputy Public Defender for Washoe County, where she worked as a felony trial attorney for almost ten years. She also worked in the Second Judicial Specialty Courts.  
Judge Longley has a long history of volunteering in this community. She has provided professional development to other attorneys, mentored law school students, and contributed to developing a legal guide for Nevada teens and adults. Judge Longley is an active member of the Washoe County Bar Association, a member of the Sparks Rotary, a board member for the Nevada Diabetes Association, a board member of Join Together Northern Nevada, the secretary for the Washoe County Courthouse Historical and Preservation Society, as well as a former member of Ignite Sparks (a city of Sparks planning committee.) 
Judge Longley attended training in 2017 at the National Judicial College in Reno, Nevada, and was subsequently asked to be a group facilitator for new judge training in 2018. At that time, she facilitated a group of judges from different locations around the United States. In 2020, Judge Longley was tasked by the Nevada Supreme Court to chair a committee working on updating restraining order applications and orders for Nevada.
Since taking the bench, Judge Longley has worked with Court staff to help create a more user-friendly Court for the public and attorneys by streamlining forms and processes used by the Sparks Justice Court to comply with new laws. Through this collaboration, the Court has implemented these user-friendly changes including E-filing for civil matters, the installation of terminals at the Court to assist the public with completing and printing forms, and the ability to make online payments for criminal cases. Judge Longley is also the presiding Judge over Sparks Recovery Court, which was established in 2015.
Justice of the Peace Chris Wilson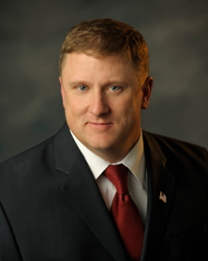 Judge Chris Wilson was appointed to the bench in Sparks Justice Court, Department 1, by the unanimous vote of the Washoe County Board of Commissioners on February 24, 2014.  Judge Wilson was thereafter retained/elected by the citizens of Sparks Township in the November 2014 general election, and again for a second term in the November 2018 general election.
Judge Wilson not only currently handles all of the regular judicial duties of a sitting Judge in Sparks Justice Court including presiding over civil and criminal bench trials, as well as civil and criminal jury trials; but also in 2016, Judge Wilson founded and presided over Sparks Recovery Court.  Sparks Recovery Court helps non-violent substance addicted defendants address their substance abuse and mental health issues while finding safe housing and stable employment.  The court's goal is total rehabilitation: complete and continued cessation of narcotics use, full-time gainful employment, clean and safe housing for children and dependents, and the ability to maintain themselves and their families without any form of government assistance.  
Since taking the bench in 2014, Judge Wilson has instituted many improvements to Sparks Justice Court to better serve our community.  This includes implementing a risk-based decision-making matrix to ensure more informed bail determinations which puts community safety first; expanding the operating hours of our court to times when the public can more easily take time off to handle court matters; as well as offering electronic filing of court documents; and implementing a traffic amnesty program so citizens with warrants for traffic tickets can come to court at any time and resolve them without being arrested.  During this same time, Judge Wilson also worked with the County Commissioners to cover a vacancy on the bench which saved our community approximately $600,000.00. Additionally, Judge Wilson has presented educational courses on ethics and criminal settlement conferences at The Nevada Judges of Limited Jurisdiction seminars.
Prior to taking the bench, Judge Wilson was a 16-year veteran prosecutor with the Washoe County District Attorney's Office and was assigned the most violent offenders.  He tried to jury verdict everything from DUI death to embezzlement, robbery, rape, and murder.   Judge Wilson also performed on-call and crime consultation for local law enforcement agencies for felonies and homicides, and was the office liaison for multiple Federal Law Enforcement Agencies.  Judge Wilson has taught Ethics and Professional Responsibility to Nevada prosecutors at the Nevada Prosecutor's Conference, and taught the Law of War for deploying U.S. Army National Guard soldiers.
Judge Wilson earned his bachelor's degree in History from Humboldt State University, Magna Cum Laude, in 1993.  Thereafter, he attended Santa Clara University School of Law where he earned his Juris Doctorate and was awarded the American Jurisprudence Award for Excellence in Constitutional Law.
Judge Wilson is a retired Major who served for over 26 years in both the U.S. Marines on active duty and later as a reservist in the Nevada Army National Guard.  He commanded multiple units including a M1A1 Tank Company and an Armored Reconnaissance Company.  Following company command, he served as an Officer Candidate School TAC Officer, an M1A1Tank Battalion Fire Support Officer, a Support Operations Officer, and as the Battalion Operations Officer.
Judge Wilson is very active in our community.  He is a regular guest speaker in our local high schools teaching U.S. Government, Law and Procedure, and for many years Judge Wilson has served as a scoring judge for local students in the We the People constitutional program.  He has worked with at-risk teens in the Washoe County School District's Substance Abuse Intervention Program, and he coached youth sports.  His wife, Betsy, taught Kindergarten for six years, and is presently the school librarian at a local elementary school in Sparks.  They are the proud parents of two University of Nevada Alumni.
Justice of the Peace Erica Flavin
Justice of the Peace Erica Flavin was elected to Sparks Justice Court, Department 4, in November 2022, taking the bench on January 3, 2023, for a six-year term.  Judge Flavin's connection to this community as well as her experience and varied perspectives made her the right choice.
Judge Flavin is a native Nevadan, raised in Sparks.  She graduated from Reed High School and attended the University of Nevada, Reno, receiving her bachelor's in criminal justice and master's in justice management.
Judge Flavin started her legal career as a Pretrial Services Officer at the Washoe County Sheriff's Office and Washoe County Second Judicial District Court, and was a Law Clerk at the Neighborhood Justice Center in St. Paul Minnesota and at St. Louis Park City Attorney's Office in Edina, Minnesota.
Judge Flavin graduated from Mitchell Hamline School of Law (formerly William Mitchell College of Law) in St. Paul, Minnesota, with honors, as she was the recipient of the William H. McGee Scholarship and Bruce Hanley Criminal Justice Scholarship.  She served as a judicial extern for Justice Lidia Stiglich while sitting at Second Judicial District Court.  Judge Flavin then became a Deputy Public Defender, Felony Division, for the Washoe County Public Defender's Office serving six and one-half years.    
Judge Flavin chose to be a deputy public defender because of her compassion for helping people.  Becoming a justice of the peace was her next step in fulfilling her commitment to serve her community.  She strives to ensure everyone is respected when they appear in court, they are treated fairly, and they feel safe living in our community. 
Judge Flavin is responsible for conducting preliminary hearings for gross misdemeanors and felonies, and conducting trials for misdemeanors, citations, small claims, and civil actions.  She reviews arrests to determine probable cause, issues arrest and search warrants, considers applications for temporary and extended protective orders, and hears summary eviction applications.  She is additionally responsible for ensuring that all community service, fine payments, and drug and alcohol counseling is completed in a timely fashion.
Judge Flavin and her husband, Theron, have one daughter and a dog.  She and her family enjoy spending time outside camping, boating, and fishing at Pyramid Lake, riding ATVs, and attending the many local events our community has to offer.