Maintenance Responsibilities
Proper maintenance of the runoff drainage system is essential to protect the public and private landowners from water damage. Weeds, sediment, garbage, grass clippings and other debris can negatively impact the capacity of our community water conveyance system to move or filter runoff - leading to localized flooding.  Maintenance is a shared public/private responsibility and that includes the routine inspection and cleaning of ditches, storm drain inlets and pipes, driveway culverts, stormwater detention/retention ponds, and other drainage features.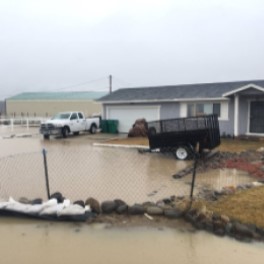 Private System
Maintenance of drainage facilities located outside of County owned right-of-ways/easements are the responsibility of the property owner or a homeowners association (HOA). Typically, if a drainage is not the responsibility of the HOA or within a public right of way, then it is private property owner responsibility to clean and maintain those facilities. 
Washoe County maintains over 1,043  feet  of pipes, culverts and drainage systems and water detention facilities to convey or infiltrate natural water run-off reducing public hazards and damage.  Operation of Washoe County drainage facilities and maintenance practices are continuously improved. Please let us know if you see a drainage issue on one of our roadways.
Learn More »