Recent Projects
Carcione and Canepa Ranch Recreation Access Plan
The Carcione and Canepa Ranch Recreation Access Plan was approved by the Washoe County Regional Parks and Open Space Commission on June 7, 2022. To review the final plan, please click here. 
Thank you so much to everyone who contributed to and participated in the plan development process. 
---
 Hidden Valley Master Plan Update

The Washoe County Board of County Commissioners adopted the 2022 Hidden Valley Regional Park Master Plan on June 21, 2022. 
---
 Bridge at Michael D. Thompson Trailhead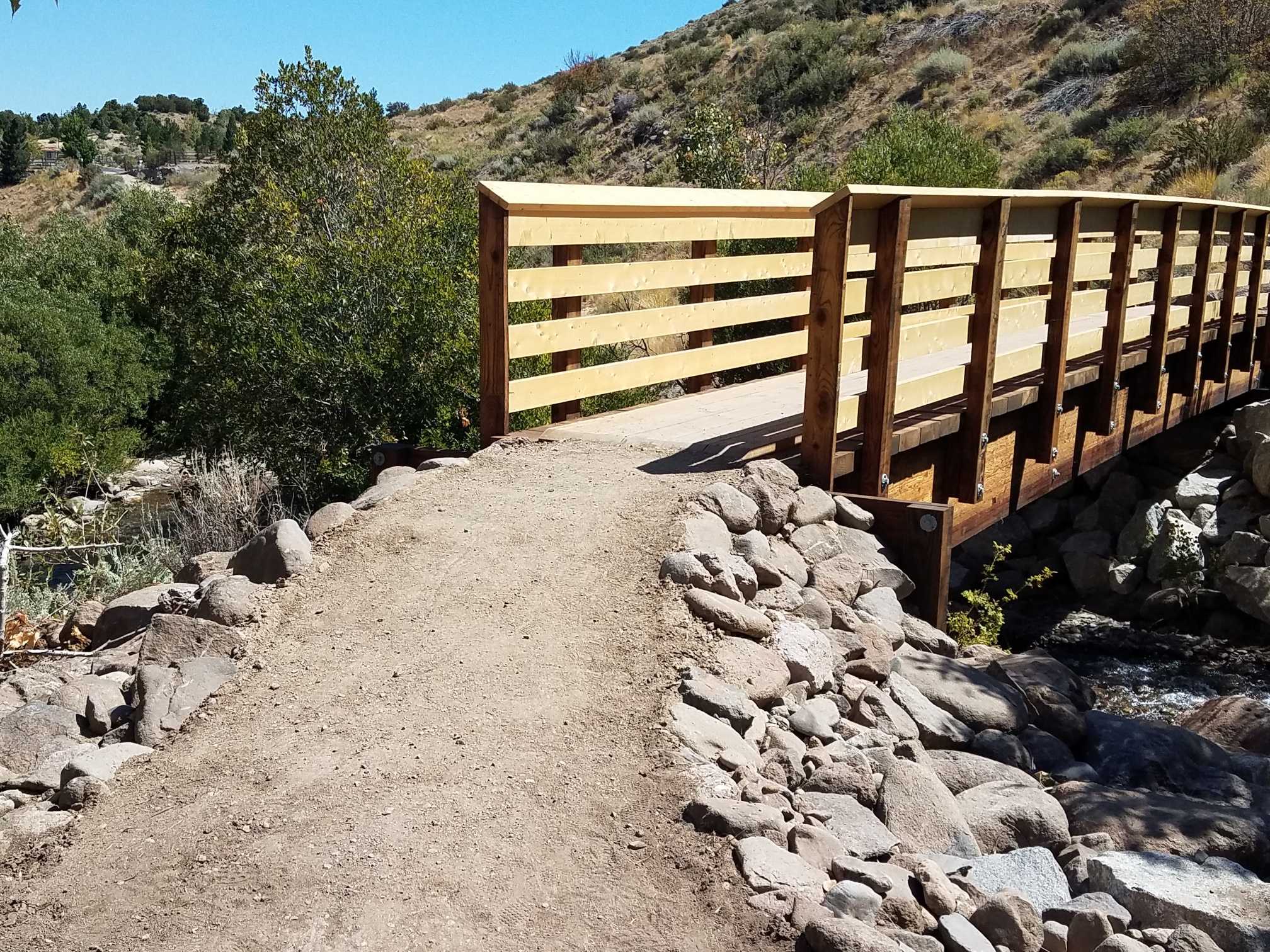 The Michael D. Thompson Trailhead bridge, installed by Sierra Trail Works in August of 2019, provides a safe, effective crossing over Hunter Creek. The bridge connects trail users to the Hunter Creek Trail, an approximately 5.7-mile out and back trail that meanders up a canyon to a beautiful waterfall.
---
Tahoe East Shore Trail
Once called the 'Impossible Trail' due to its many construction and funding obstacles, the Tahoe East Shore Trail is a multi-use path extending from the intersection of Lakeshore Drive and SR-28 to Sand Harbor. The 3-mile long, ADA-accessible path was completed in the Fall of 2019 and offers stunning views of Lake Tahoe. This project was led by the Tahoe Transportation District and supported by 14 agencies and nonprofits.
For more information about the trail, visit the Tahoe Fund's Tahoe East Shore Trail webpage.
---
North Valleys Regional Park Expansion
  In partnership with the City of Reno, Phase V of North Valleys Regional Park was completed in 2018. This expansion included the construction of a new Babe Ruth baseball field, a multi-use field, expanded parking and a non-motorized trail system. For a video on the 3 miles of progrssive stacked-loop trails, click here.
For additional information on any of these recent projects, please contact: Faye-Marie Pekar, Park Planner, 775.328.3623, fpekar@washoecounty.gov