Flooding
Hazard Description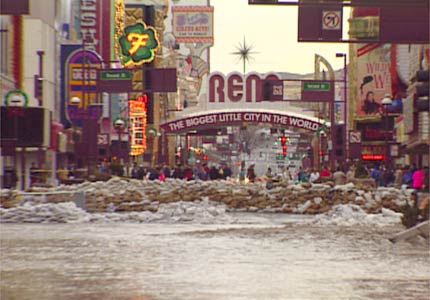 Floods are among the most frequent and costly natural disasters in terms of human hardship and economic loss. The geographic location of flooding is concentrated in the floodway and floodplain of the Truckee River and its tributaries, including Steamboat Creek and Dry Creek in eastern Reno and southern Sparks. The Truckee River headwaters comprise the Lake Tahoe Basin. The river drains part of the high Sierra Nevada and empties into Pyramid Lake. The three types of flooding are 100-year and 500-year floods; flash flooding; and closed-basin flooding.
Impact
Floods can cause substantial damage to structures, landscapes, and utilities, as well as jeopardize life safety. Certain health hazards are also common in flooding events. Standing water and wet materials in structures can become breeding grounds for microorganisms such as bacteria, mold, and viruses. Where flooding occurs in populated areas, warning and evacuation will be of critical importance to reduce life and safety impacts.
Mitigation
Washoe County has adopted Article 416, Flood Hazards, of the Washoe County Development Code to reduce the County's vulnerability to flooding. Article 416 establishes development guidelines and requirements for properties in unincorporated parts of the County that are within flooding hazard areas. For developments in flood‐prone areas of the County to be approved, mitigation measures, such as Letter of Map Revisions to FEMA Flood Insurance Rate Maps, on‐site detention/retention basins, elevation/fills for building pads, and drainage improvements must be implemented. Through its land use planning and zoning authority, the County has attempted to zone flood‐prone areas for less intense development or no development at all.
Personal Action
We recommend residents pick up garbage and keep the roadside ditches and pipes clear of large debris. Household garbage, garbage cans, and lawn debris can be problematic and can clog drainages but can easily be removed by property owners. If your property is prone to flooding, utilize the sand and sandbags made available by Washoe County.  If your property is in a flood plain please look into the National Flood Insurance Program (NFIP). 
Residents can call to report a problem area at 775-328-2180 or submit a work request online. 
Washoe Sandbag Locations
Lemmon Valley, Lemmon Drive and Pompe Way 
Lemmon Valley, TMFR Station 440, 130 Nectar Street 
Silver Knolls Volunteer Fire Station, 11525 Red Rock Road 
Golden Valley Park (Hillview entrance), 7490 Hillview Drive 
Washoe County Operations Yard, 3101 Longley Lane 
Highland Ranch Parkway 1 miles west of Pyramid Hwy 
Belli Ranch, Blue Heron Circle and Warrior Lane 
Toll Road and Geiger Grade 
Pleasant Valley, Andrew Lane and Paddlewheel Lane 
Pleasant Valley, Pagni Lane and 395 
East Washoe Valley, TMFR Station 32, 1240 Eastlake Blvd. 
East Washoe Valley, Eastlake Blvd and Gander Lane 
West Washoe Valley, TMFR Station 30, 3905 Old Hwy 395 
To learn more about flood management, click here.