You Found Someone's Pet
Remember that a pet who is lost for even one day can easily look scared and disheveled.
A scruffy appearance does not mean this animal is not cared for and loved by their family.
The pet you found may have been missing for an hour, days, weeks or more.
---
Steps for getting a pet back home
1. Check for any identification on the collar.
If the pet is wearing a tag with a phone number, call the number immediately, leave a message if you reach voicemail.
Try sending a text message to the number listed. Many people are more likely to read a text message than they are to answer a call from an unknown number.  
2. Take the pet for a walk around the neighborhood.
---
If it is safe to do so, walk the pet on a leash around the neighborhood where it was found.
Ask anyone you may see if they recognize the pet.
Families,
Postal workers,
Delivery personnel etc.
---
Check to see if anyone has filled a Lost Pet Report with Animal Services for a similar pet.
Check the lost pet report page frequently.
Use the button to view pets reported lost by community members.
Learn More »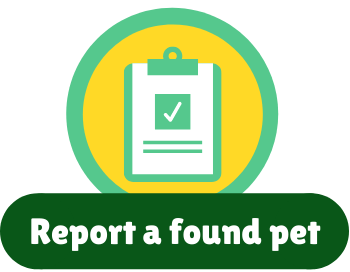 ---
This will allow the public to see that the pet has been found and gives our team a chance to match the pet and their owner in our system.
Make sure to include a clear facial photo of the pet.
Note any distinct markings or characteristics in the report.
Use the button to submit a found pet report to Animal Services.
Learn More »
5. Post on local lost and found pet websites
---
Post a photo and information about the found pet on the following popular websites for lost and found pets:
---
Post the flyer in high visibility areas such as major intersections, Mailbox clusters, stop signs, local grocery stores, community bulletin boards and community areas.
Use the button to access a free found pet flyer generator tool.
Learn More »
7. Have the pet scanned for a microchip
---
 Microchips can be scanned for free at any of the following locations:
Any veterinary clinic
Washoe County Regional Animal Services
Nevada Humane Society
SPCA of Northern Nevada
---
8. Call Animal Services dispatch to report a found pet (775) 322-DOGS (3647).
If you are still unable to find the pet's family or are unable to complete the above steps, you can bring the pet in to Washoe County Regional Animal Services during business hours or you can call Washoe County Regional Animal Services and we will dispatch a driver to pickup the found pet.
Please note that wait times for a pet pickup can vary significantly depending on staffing and call priority. For expedited service, we recommend bringing the pet to the shelter when possible.