Who We Are
Washoe County Regional Animal Services (WCRAS) is a regional operation providing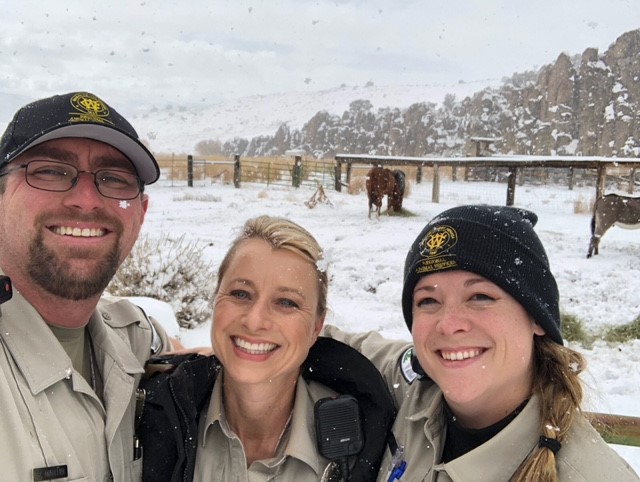 services to the cities of Reno, Sparks and unincorporated Washoe County residents.  WCRAS is funded by a .03 cent per $100.00 of assessed property value for our regional services, including the building and property maintenance.  WCRAS focuses on animal welfare and public health, through sheltering, field services and regulation enforcement and proactive outreach programs that support responsible pet ownership and pet retention.
WCRAS
impounds an average 13,000 animals annually either brought in by citizens or picked up by field staff. Approximately 65% of the animals that come through the shelter are lost animals. The remaining 35% are bite quarantines, cruelty case animals, deceased animals, etc. WCRAS' regional facility includes 117 dog kennels, 16 puppy cages, 160 cat cages and six-stall barn for livestock. Our facility routinely houses other animals such as reptiles, birds and rabbits and livestock.
WCRAS works very diligently to reunite lost pets with their families. For fiscal
year 2022, we returned a whopping 43% (stray cat and dog) of lost animals to their families! 68% of stray dogs brought into the shelter were returned home! And 6% of our cats that were brought into our shelter were returned. Our philosophy is that every animal has a home and we want to help find it, whether it is a lost animal that needs help being reunited with its family or if it has been abandoned and in need of a new place to call home. Our FREE microchip program and diligent efforts by WCRAS staff contribute to our successful reunification of over 40% of lost animals.
WCRAS and Nevada Humane Society are co-located within one building and work as partners to provide very valuable, effective but different resources to the community.  A unique partnership that allows a broad range of resources to our community without duplication of services.  As a very important piece of the partnership with WCRAS, Nevada Humane Society provides the adoption services for an annual average of 5400 animals that are not re-claimed by their families from WCRAS. WCRAS works with SPCA-Northern Nevada, Pet Network, Res-Que and other non-profit adoption and rehabilitation organizations for animals that do not fit into the NHS adoption program. NHS helps to provide re-homing assistance to those that are unable to keep their animal and are researching surrender options.
MISSION
Promoting responsible care of animals through education, proactive outreach and regulation making Washoe County a safe community. 
AREAS SERVED
WCRAS provides services across the Cities of Reno and Sparks as well as unincorporated Washoe County, totaling 6,600 square miles.  It is estimated that over 97,000 dogs and 106,000 cats reside in Washoe County. (https://www.avma.org/KB/Resources/Statistics/Pages/US-pet-ownership-calculator.aspx )
HISTORY
In 2002, voters in Washoe County passed a referendum to fund the construction of a new Regional Animal Service facility through a 30-year bond, levied by a 3% property tax increase. Animal service departments from the cities of Reno and Sparks consolidated with Washoe County.  As part of the referendum, it included a partnership with Nevada Humane Society.  Though each organization is separately funded, this public-private partnership allows both agencies to cost share by co-locating and sharing the same 60,000 sq. ft facility.  The facility was designed by Gather Melby LLC and George Miers & Associates and is state of the art in both form and function.
WCRAS became a standalone department in 2014.  The department is comprised of approximately 42 full-time employees that make up outreach, field services, dispatch, shelter caretakers, and administrative staff.  WCRAS provides field services 7 days per week from 8 a.m. – 10 p.m. and the office is open Monday-Friday, 8-5 and Saturday 9-3 to meet the needs of our community.
CAREER OPTIONS
If you are interesting in a career with WCRAS,
click here
and keep an eye out for job openings!