Bailiff Division

Phone: 775-325-6569
Overview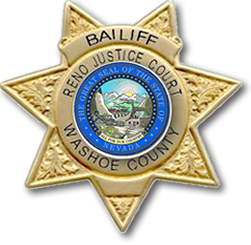 The Reno Justice Court Bailiffs are Nevada Peace Officers listed under NRS 289.150 and certified by Nevada Peace Officers Standards and Training.
RJC Bailiffs are responsible for the security and safety of all persons within the courtrooms as well as the Reno Justice Court facility.
RJC Bailiffs direct persons to the proper courtrooms, call court to order, maintain security while court is in session, respond to requests from the public, other agencies, and court personnel. They also take persons into custody for law violations as well as when defendants are remanded into custody. RJC Bailiffs also assist other agencies during emergencies or evacuations.
RJC Bailiffs can be reached at the Bailiff Station, located on the second floor, north tower of the Mills B. Lane Justice Center. The contact telephone number is 775-325-6569.