Animal Welfare
IMPORTANT!
If the animal is immediate danger, please call (775) 322-3647 (DOGS).
This would be a high priority call and requires our immediate attention.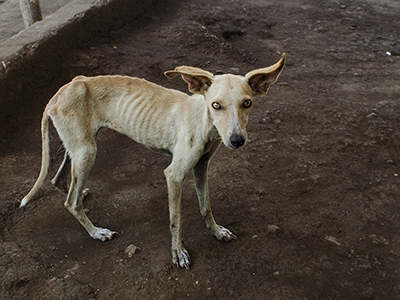 WCRAS is dedicated to ensuring that animals in Washoe County are treated in a humane and responsible manner. The professional and caring Animal Control Officers enforce a variety of state and local laws and ordinances regarding pet ownership and responsible care.  A very important aspect of our enforcement and animal protection responsibilities include animal cruelty investigations. 
Cruelty to animals generally involves an intentional act of violence toward an animal or causing unnecessary suffering to an animal.  Cruelty to animals includes food, water, shelter or veterinary care deprivation, animal abandonment, beating, tormenting, maiming or fighting an animal and tethering a dog for more than 14 hours a day, in violation of NRS 574.100 and WCC 55.140.  
Sanitary Conditions WCC 55.110
No person shall keep any animal unless its area is kept clean and free from offensive odors and animal wastes.
Dogs in hot vehicles NRS 202.487 and WCC 55.190: WCRAS received 728 calls for dogs or cats left in vehicles in
2018. On an 85 degree day, the inside of a vehicle can reach 102 in only ten minutes, even with the windows cracked.  Within 30 minutes, the car's interior can reach 120 degrees.  A pet can quickly suffer from brain damage or die from heatstroke or suffocation.  Animal Control Officers can and will take the necessary action to retrieve an animal from a vehicle, including breaking a window, door lock or other measures to rescue the animal.
What to do when you come across an animal locked in a hot vehicle.
1)      Call us immediately at 775-322-3647. Do not report this online!
2)      Get the vehicle's license plate number, pet description and vehicle description.
3)      If there is a business nearby, request an emergency announcement be made with the descriptive information.
4)      Go back to the vehicle and wait for WCRAS to arrive.  Do not enter the vehicle and do not confront the animal owner! 
Tips for prevention and treatment of overheated animals from HSUS and ASPCA
Spread the word! Print our Dog in Hot Vehicle Prevention Poster here!
WCRAS Animal Control Officers respond to these complaints and conduct a thorough investigation.  WCRAS Animal Control Officers also provide educational information to animal owners about responsible and proper care for animals in an effort to prevent the pet owner from repeating unintentional neglect.  Many cases can be resolved through education, proactivity and pet owner cooperation.  WCRAS Animal Control Officers have the authority to seize an animal from the owner or caretaker's property if exigent circumstances exist.  WCRAS will conduct a full investigation and forward the case to the District Attorney's Office for final review.  Cruelty to animals is taken very seriously and WCRAS will seek prosecution under the fullest extent of the law, including but not limited to fines and/or imprisonment. 
If you suspect animal cruelty or neglect, please report it. If an animal is in immediate danger, please call us at (775)322-3647 (DOGS).  When completing a report, please include the following important information:
Location/address of animal
Description of animal (large brown cat, black horse)
The nature of the problem (neglect, illegal tethering)
How long you have noticed the problem.
Please include your contact information so that an officer can contact you for further information if necessary. 
*All reports are subject to public records request.