---


Dana Searcy is the Housing and Homeless Services Manager for Washoe County. She began her career with the County in 2017. Prior, Dana served our community in the non-profit sector for more than 10 years.
Dana's education includes a Master of Business Administration and a Bachelor of Science in Business Administration with a secondary focus in Marketing from University of Nevada (UNR). Dana additionally completed the Certified Public Manager (CPM) Program nationally accredited leadership development program for public managers and supervisors.Dana is a native Nevadan and proud to live locally with her husband and family.
---
Our community has a need for a regional approach to addressing homelessness – one that considers all needs, stakeholders and partners. One that will serve as a regional collaboration platform to help facilitate conversations and align efforts and strategies.
---

Ending homelessness isn't just possible — it's already happening!
Cities and counties just like ours are changing how local housing systems work to ensure an end to homelessness that lasts and leaves no one behind.
Built for Zero is movement of more than 80 communities working to measurably end homelessness. Washoe County joined in April 2020 with a team representing over 30 organizations.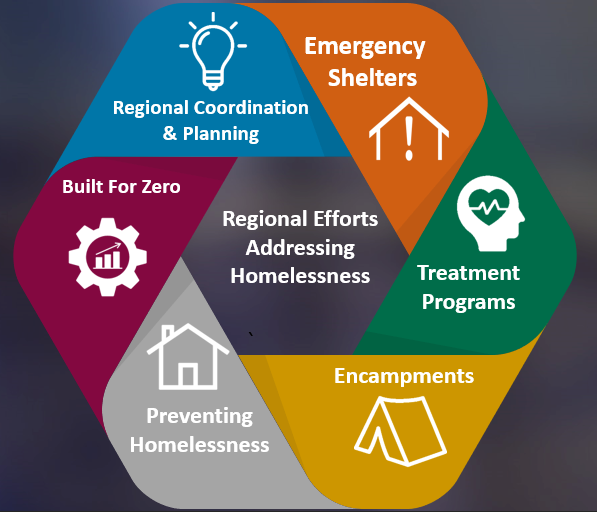 Regional Efforts to Address Homelessness
Addressing homelessness includes many different categories of work – that work is interwoven and overlapped, creating a complex system. Though each is unique, movement within one area of the system effects the whole.
There is always another idea, program or direction that we could take, but in order to make meaningful community wide progress our best option is to thoughtfully and purposefully choose to focus… and move in the same direction.
When we can do that, we will see progress in our efforts to reduce the number of people experiencing homelessness in our community.
The Regional Efforts to Address Homelessness Matrix is the beginnings of a regional plan to address homelessness and a tool to help focus and prioritize our efforts.
Additional Information
If you are interested in additional information on Housing and Homeless Services, please contact Dana Searcy, Housing and Homeless Services Manager, Office of the County Manager (775) 328-2720 or dsearcy@washoecounty.gov.